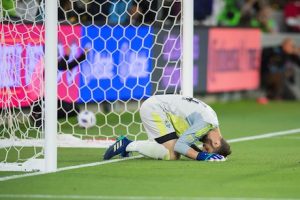 SANTA MONICA – One moment. One goal. One home win in the books. LAFC made history as it sealed a 1-0 victory at its first ever home game against the Seattle Sounders Sunday night in LA.
LAFC looked well on its way to a draw as it went into the final few minutes of play. The home team struggled on the offense as it watched shot after shot go all around the frame and only four on target — all four coming in the last half of the game. However, LAFC persistent until one of its 13 shots found a way into the net.
With the clock slowly whittling away, LAFC and Seattle had little time to claim the advantage, but while the Sounder's excelled at putting the ball on frame, LAFC was the one able to capitalize at the last minute. A foul late in the second half set LA up for a last minute chance on a free kick. Turning to former Defensive Player of the Year Laurent Ciman, the home team looked to him to bring things home for them.
Ciman almost made it look easy though. The standout defender bent the ball around the wall and straight at Seattle's keeper Stefan Frei. However, Frei was unable to pull it the ball as it ricocheted off him and into the back of the net causing a loud thundering of people to fill the stadium for the first time in its history.
However, the game was far from slow. Both teams had a couple of opportunities to get ahead early on, but the keepers went to work, denying either side access to the goal. Fortunately for LAFC, its defense stepped up time after time to keep the ball out of the night. Keeper Tyler Miller recorded three saves on four shots on goal while his defense stepped up to save Seattle's other three shots on the night. Dempsey returned as a starter for the Sounders and recorded nearly half of Seattle's total shots.
Photos courtesy of ISI photos and LAFC's Instagram.